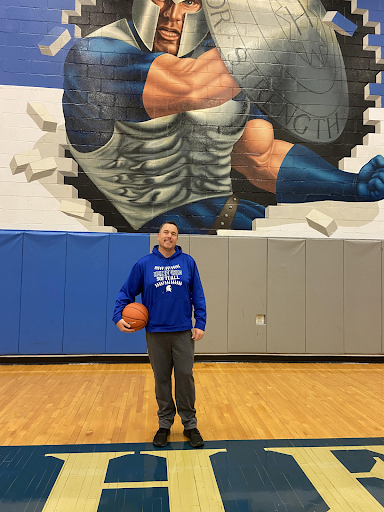 "Right out of the gate, I expect playoffs for this team." With these words, new girls basketball coach, Bob Maddison, has raised the bar for a program that has struggled for the past few seasons. From smaller rosters, to losing streaks, to just general frustration, the girls program has faced obstacles that many programs have had to overcome.
Coach Maddison intends to propels our team to new heights. With years of experience and drive to win, Coach Madison is ready to make that losing streak into a winning streak.  
Hired on September 12, 2023, Maddison's enthusiasm is clear. "I feel like it was a perfect fit; I've fallen in love with Hempfield. I think it's a great place, and I care about the kids and the community."
Maddison is inheriting a program that last made the playoffs in 2018 and hasn't won a section title since 2013. In addition, they compete in a 6A conference playing powerhouse teams such as Pine Richland, North Allegheny, Seneca Valley, and arch nemesis Norwin. According to Maddison, Hempfield's return to greatness comes down to a simple formula: "hustle, be aggressive, try your hardest all the time"
Players are excited for the change as many of the new players also play softball for Coach "Bobby."
According to Junior Allie Cervola, "At softball, he's the confidence booster coach; he builds good relationships with his players, and with a better relationship with the coach, we will play better as a team."
Our athletic director Mr. Rapp and the School Board also saw a lot of potential in Coach Bobby during the hiring process. Rapp says, "Laurel Highlands School District was turned into a playoff winning team after Coach Maddison took over their program, and we hope that he brings that same passion to our program and turns us into this winning team that the girls have been working towards for years".
The topic of playoffs is a longing desire for all the players. Senior Sarah Podkul says, "I hope we get out of this slump and make the playoffs at the end of the season. I think we have a lot of potential this year, and I'm really excited for the season."