Rumor has it, the Hempfield fall play is back! The fall play has been a tradition since the school was opened in 1956. Originally, it was called the "annual school play." In 1970,  it became the Fall play.
This year's fall play, Rumors by legendary playwright Neil Simon, is a comedic play using horseplay and buffoonery. Originally released in 1988, the play has seen plenty of success in theaters around the world. It's about four couples that arrive at their 10th anniversary celebration party for New York's deputy mayor and his wife, only to find the mayor wounded in bed and the wife missing.
Our students, Rachel Husenits, Morgan Verellen, Jocelyn Davis, and Kate Livingston are all seniors who have been in every fall play since they were freshmen. With the many practices and long hours spent rehearsing together, they have grown very close and made meaningful connections with one another. Verellen, when asked about her favorite moments throughout the years of doing the play said, "Dress rehearsal and talking to each other, eating Chinese food, and freshman year because we had tons of free time." The fall play brought these four together and kept them together creating memories they will carry with them throughout life. These are moments, the memories, and the friendships that help to define a high school career.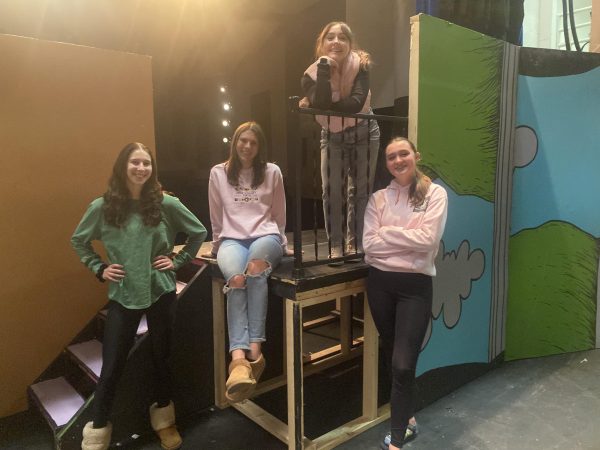 All four seniors are looking forward to this year's performance and are calling it "the best one yet." In the words of Husenits, "Rumors is definitely my favorite play we've done so far. It's a very amusing play, and it's fun for everyone in the cast to perform. The cast this year is smaller than usual, but I like that because it allows everyone to truly bond and grow closer." 
The cast is smaller this year than in previous performances, but it seems like everybody in the cast loves it this way. Livingston states, "I think this year will be really fun, since the cast is so small. I hope to get close with all my classmates."
This tight knit crew is made up of many seniors including Sarah Podkul, Lucy Dellera, Benny Kudrick, Abby Dunlap, Malea Nadeo, Laney Springer, Carly Fox, Shaylee Cohen, and Cody Comm. This being their senior year, they believe it's time to "really put on a show."
Davis spoke jokingly about how excited she is to "surprise our parents and others" by performing such funny stunt work and one-liners on the stage. 
The play will take place November 2nd, 3rd, 4th and 11th at 7 pm. There are also 2pm shows on the 4th and 11th. The two act comedy  will be performed on the auditorium stage using a "Black Box " seating arrangement. Entry fee will be $3 for students and $5 for adults. So spread the Rumors and come see the show!