Last year's Mini-THON was a great success and created a lot of buzz around the building. From hosting events like volleyball tournaments, color runs, a Gold Out football game and their huge main event, a 12 hour long dance marathon, it truly brought out the best of our building and the people within it.

All of the money from these events are totaled up at the end of the year for a grand total reveal to be donated to pediatric cancer research. In their first year, juniors and seniors raised $57,607.95.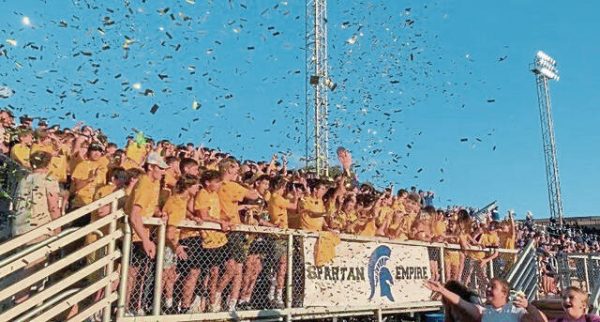 This year, a new theme has hit the Spartan Stadium for Cancer Awareness month – Pink with Gold Trim. Student Council and Hempfield Area Mini-THON are coming together to raise money for cancer awareness at the football game on September 15th versus Shaler Area.
Mini-THON Community Liaison, Riley Dunn, says "I think it is a great theme to raise awareness for two amazing causes all in one night."
Students will wear pink clothing to represent Breast Cancer Awareness and gold accessories to represent Pediatric Cancer Awareness. Mini-THON will be selling gold accessories, such as beaded necklaces, sunglasses, bracelets, and much more.
All profits from these accessories will be donated to Four Diamonds to aid in pediatric cancer research. Students hope to bring awareness to all people and families affected by cancer and to show the amount of support Hempfield has to bring.