This year's 2023 football team, the Hempfield Spartans, has only 3 returning starters, senior quarterback/safety Keiran Lippman, senior left guard/defensive end Joe Dolinski, and right guard/middle linebacker Brennan Knight. All three returning starters were named the team's captains, along with senior H-back/middle linebacker Brady Ewing. Even though the team is low in seniors, it has a lot of young talent that could be a big help this season. Quarterback Keiran Lippman feels, "even though we have a lot of new starters, I think that they'll step up and help our team in many ways."
The Spartans also promoted former assistant coach Nick Keefer to head coach. The 34 year old coach has a lot of history in the Hempfield Football program. Keefer worked as an assistant coach, quarterbacks coach, and as the 9th grade football coach. Not only is Coach Keefer the head coach, he will be the teams offensive coordinator and quarterbacks coach. Keefer is bringing along his brother, Zach Keefer, to be the teams defensive coordinator. Finally, the oldest member of the Keefer family, coach Tim Keefer, will act as the safety coach for the team. With a lot of young, but promising talent, Coach Keefer hopes to have a successful season for his first year. 
See "Girl Dad" for an insider look at Coach Keefer.
On Friday nights, Spartan Stadium is notorious for having an electric atmosphere and being packed with fans, and for the 2023 season, Spartan Stadium received some upgrades. The stadium has a brand new scoreboard with all new LED lights that flash whenever the team scores a touchdown. Not only does the stadium have a new look, the players are using the new Hempfield Area Logo on the side of their helmets. The football program has never had this many changes heading into a season, and the team is bound to have some adversity. However, running back coach and former Hempfield football alumni David Greene says, "the bond that we're starting to create right now is building, and as long as we keep on this steady path, greatness will be achieved."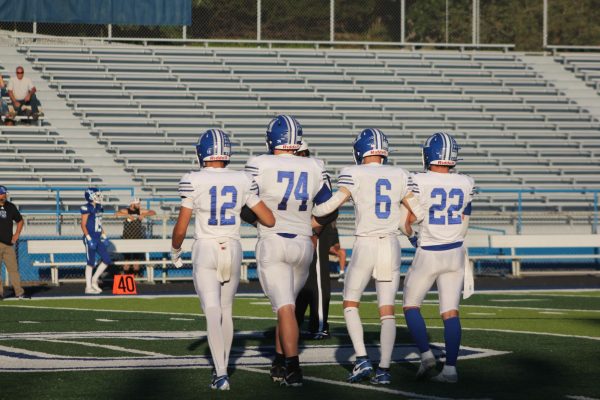 Seniors Kieran Lippman (12), Joe Dolinski (74), Anthony Puskar (6), and Lucas Moore (22), walk out to take the coin toss before facing off against Connellsville. (photo by Austin Herron).