Unification plays a big role at Hempfield Area whether it is the classic Friday Night Light games or even just a class day. When the school year starts, the first thing to unite all four grades is undoubtedly the student section. They gather together to celebrate and cheer on their school, show pride, and dress up as one with different themes. It provides the team with motivation to put their best selves out there. This spirit should be given to teams who serve best, namely, the girls' volleyball team. These girls go above and beyond whether it's in practice, games, and even within the community.
Even though they did start out the season with a loss against Seneca Valley, they came back for the first home game with a sensational win against Greensburg Salem. The roster consists of experience coming in with 7 seniors who have played on the team in previous years, along with some juniors and sophomores as well. 
Each game and practice is a fresh start for these girls. Co-captain and senior Sarah Podkul states, "Our coach always tells us to get 1% better every day…Our wins and losses don't affect us; everyday is a new day no matter the final score of the game the day prior." 
In addition, her fellow captain, Ashley Hosni says, "After each win or loss, it can build confidence, tear confidence down, push us to work harder, or teach us new things we need to work on. Every single game affects each player differently and the team as a whole, but we build upon these aspects and learn new things from these moments.Throughout this season, I plan to push my teammates to become the best player they can be and encourage new improvement every single day."
Both of these dedicated captains bring different aspects to the table.This inspiring work ethic is demonstrated every time they step out onto the court whether at home or away. The seniors lead the team by showing how consistent hard-work and dedication pays off. Having a young team this year means also showing them the ways of the game and striving to win. Hosni says that, "I take much pride in the people I stand beside and help motivate, guide, and listen to my teammates". As a team and individual, each encourages, helps, and supports the other.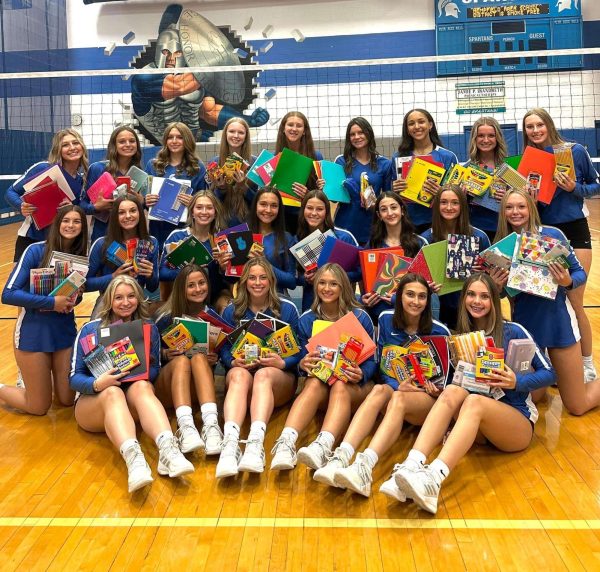 The team serves on and off the court. Before the season began, they came together to gather school supplies for schools in need. They spent a week in advance buying things like notebooks, pencil pouches, and folders. Once they finished collecting, they sent them to a school in need. This is not the only "serve" they have had this year off the court. On October 5th there will be a Mini-Thon game that they will be hosting against Norwin! At this event, money will be raised to help with research for pediatric cancer. 
Additionally, they continue team efforts off the court as well. Hosni shares, "Team bonding outside of playing creates chemistry and bonds within the team that then reflect onto the court." Podkul wrote that keeping in contact and communicating on and off the court keeps them motivated. Keeping a close bond seems to help the team perform better as one
When playing intense games, the student section can help motivate any team. Being supportive, positive, and hyping the team up plays a significant role during those tense and overwhelming games. It motivates and builds confidence for the team, encouraging them to go the extra mile and make those impressive diving saves and hits. They play on Tuesday and Thursday nights! Below is the Varsity schedule for the 2023/2024 season. Come out and support the girls who serve both on and off the court!