Pride in our school and sports teams runs deep at Hempfield Area High School. When going to any Hempfield sporting event, students show up ready for any theme thrown their way to support their fellow peers. As winter sports begin, boys ice hockey is in full swing. Anticipation and exhilaration permeates through the student section whether at home, in the Kirk S. Nevin Arena, or away. The support means a lot to this team, and it is something that pushes them to play harder and motivate them.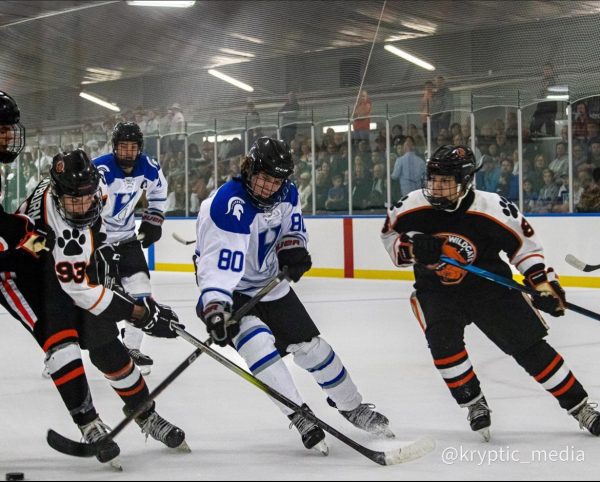 "I don't think we've ever played in a game with that big of a student section…Words really can't describe how fun it is to play in front of that many students. It's definitely a little nerve wracking when you're warming up, but when the puck drops, our team just focuses on the game" says co-captain and senior Nick Eberhardt.  
Fellow co-captain and senior Max Short adds, "the student section definitely helps with the motivation, but student section or not, we are there to win a game. When the student section is there, it's electric. It [creates] the good type of nerves that make you play even harder".
Senior Peyton Murray loves being in the student section. He explains, "The Hockey games are electric and fun, we get pretty hype when they score. I think everyone should come to the games. Our student section is the best in the nation".
This season, the team is working hard inside and outside of the rink. From the beginning, the team's goal is to have a home playoff game in the first round and win the Pens Cup. It is important to have a close bond with their teammates in order to have better chemistry on the ice and to play stronger as one.
 The captains have a similar view on the importance of chemistry and leadership. Eberhardt says, "the upperclassmen bring the team close together since we are the older kids and need to lead by example". 
Short mentions that the team being as close as they are helps them play on the ice. When the team wins it helps to build their confidence and momentum.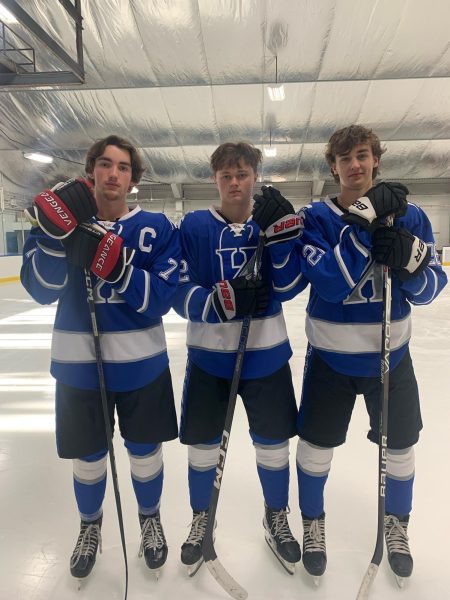 Although the losses sting, it encourages them to come back better and stronger. For the next game, they prepare by practicing harder, faster, and with competitive spirit. On game day, the team arrives early to warm up and get ready for the game. During their time before the game, they play sewer ball with a soccer ball and stretch, getting ready to put their best skate forward on the ice.
On a personal level, Eberhardt tries to get there before his teammates in order to tape his stick and do what he needs to get done before the team goes out and warms up. Short prepares by stick handling, stretching, and "playing sui with the fellas".
All three captains; Alex Smilie, Max Short, and Nick Eberhardt, work hard to make sure morale, dedication, and determination stay flowing throughout the team. As leaders, they all want to motivate the team to play their hardest and do their best. 
"As a captain, I would like to push my team and myself to try and be the best we can be", Short says. One thing that keeps him personally motivated is that "people on this team look up to me so, I don't ever give up. I just have to push everyone through the whole game".
The boys play today, Thursday, November 9, at the Kirk S. Nevin Arena at 7:15. Come out and support the boys hockey team as they face off against Fox Chapel!