Originally known as Armistice Day, but changed to Veterans Day in 1954, November 11th, is a day when we recognize and honor all of those people who have taken their time to serve and defend this country. It is also a time for us to stop and understand what it actually means to "serve."
This Veterans Day, Hempfield proudly recognizes alumni like retired Brigadier General John Kubenic, a 1988 Hempfield Graduate who served in the U.S. Air Force.  We recognize staff throughout the district who have served our country like our High School principal, former Army Sargent Dr. David Palmer, and Stanwood Elementary teacher, Carina Muchoney (Air Force). Finally, we recognize classmates like senior student Logan Bryner who plans to serve in the Marines after graduation.  While their motivation for serving may differ, the one common theme that runs through their stories is the desire to serve – not just their country as a whole, but their friends and family who have helped make them who they are today.
We thank them for their time, bravery, and sacrifice for this country. As a community, we are grateful for all they – and all who have served – have done to keep our country safe.
For Dr. David Palmer, "Service" is about personal sacrifice. According to Palmer to serve has "different meanings to different people. For me, to serve means self-sacrifice and putting the country before yourself. Not everyone is willing to do that, of course. But it's doing something you truly believe in."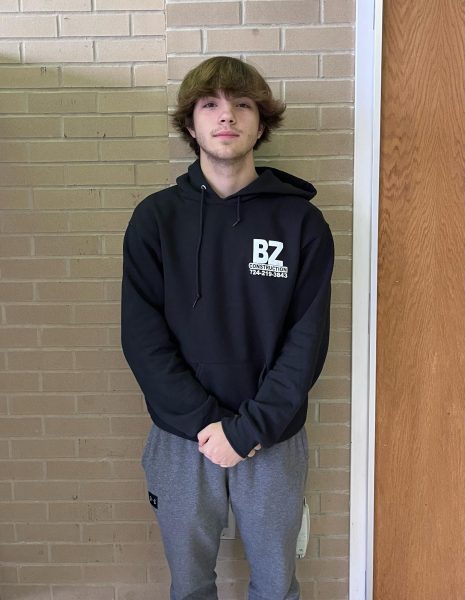 Carina Muchoney, who served in the U.S. Air Force, stated, "When I think of what it means to serve, I think of my favorite quote by JFK, 'Ask not what your country can do for you – ask what you can do for your country.' That one sentence means so much.  We are so fortunate to live in such a beautiful country. Serving in the Air Force was a way to give something back."
Senior Logan Bryner is a student enlisted into the military this year following graduation. When asked why he decided to join the military, he stated, "Because I'll be able to travel." He indicated that, "I'm going into the Marines. My step-dad was also a Marine; that made me want to join." We wish Logan the best of luck and thank him for his commitment to the Marines after graduation.
Finally, for Spartan Alumnus, and Air Force Brigadier General John Kubinec, it's a life spent dedicated to a country and a cause. According to Kubinec, " Every time I came home to Western Pennsylvania, people would ask me if I was still 'in the service.' They didn't ask if I was still in the military, but 'in the service.' It was something that always stuck with me and helped me remember what I was doing with my life was all about serving others. I was honored to wear the uniform of our nation for 32 years… ."
There are many ways to honor our Veterans, from a genuine 'thank you for your service', to following in their footsteps and serving in the military yourself. But the best way to honor our Veterans is for each of us be 'in the service' in our own way. To serve our families, to serve our school, and to serve our community.
— Brigadier General John Kubinec
We can all learn from Kubinec's statement and apply it daily in our own lives. To honor those who have sacrificed for our country, we can serve each other, our families, our peers, and our community to make Hempfield Area all that it can be. As Kubinec says, "It is in that spirit of serving others, that we honor all of those who have served us."
Thank you to those who have served and continue to serve us daily.