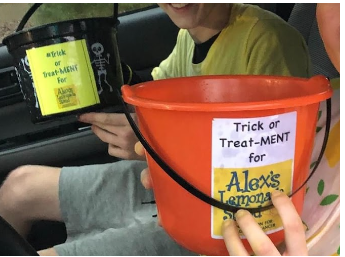 "Changing the lives of children with cancer through funding impactful research, raising awareness, supporting families and empowering everyone to help cure childhood cancer." This is the mission of Alex's Lemonade Stand (ALSF): A Foundation for Childhood Cancer. After being released from the hospital in January of 2000, Alexandra "Alex" Scott, held a lemonade stand in her Pennsylvanian front yard with the intention of raising money for "[her] hospital" and other children with cancer just like her.
At just four-years-old, while also battling neuroblastoma, she raised approximately $2,000. Once the news of Alex's annual lemonade stand spread, people all over the world set up their own lemonade stands and donated to Alex's cause. In June of 2004, Alex was even featured on the Oprah Winfrey Show and The Today show. By the time of her passing in 2004, Alex had raised $1 million and inspired a legacy of hope. 
After attending ALSF's Student Leadership Academy in the summer of 2020, Hempfield graduate Gianna Richason wanted to find other ways she could help kids with cancer. Gianna teamed up with 45 students from Hempfield Area School District as well as Latrobe High School to host a "Trick-or-Treatment" event on Halloween. The group raised over $4,000 for childhood cancer, and the event continued over the next several years.
 Gianna DeMarco explained that since Richason, "every year a new senior runs it." After Gianna Richason, Hempfield student CJ Frederickson took over the event, followed by Matt Dugan. Last year, Matt Dugan and his fellow students had a goal to raise $1,000, and completely surpassed that goal by collecting over $5,000. Gianna DeMarco was specifically asked by Matt Dugan to take over the "Trick-or-Treatment" fundraiser, and she feel honored to take up the torch.
Students have been distributing fliers containing information about the event and the Alex's Lemonade Stand Foundation. According to Gianna, "This will make people more ready to donate to the cause whenever they are approached!" On the night of Halloween (Tuesday October 31, 2023), 40-50 students participating in the event will act as "trick-or-treaters" and collect donations. 
When asked about this year's money goal, DeMarco commented, "Last year the total raised was around $5,000 dollars, so anywhere near there or above is what I am hoping for this year!"