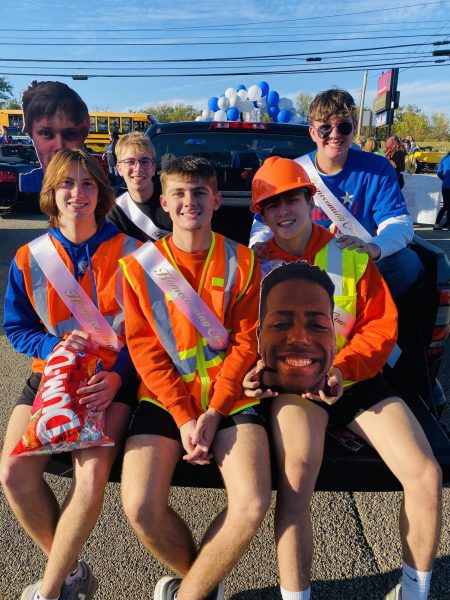 One of the most inspiring aspects of the king's court this year was the friendships that it showcased. The boys actively rooted for each other to win.
They even carried the photos of the football players who could not ride in the parade to make sure they were displayed.
The court errupted in cheers when Benny Kudrick was announced as king at the dance on Saturday night. We are proud of this group for representing Hempfield Area High School in such a positive way, for highlighting friendships, and for serving as our 2023 Homecoming King Court.
Congratulations to King Benny Kudrick and all our the members of the 2023 King Court, biographies showcased below.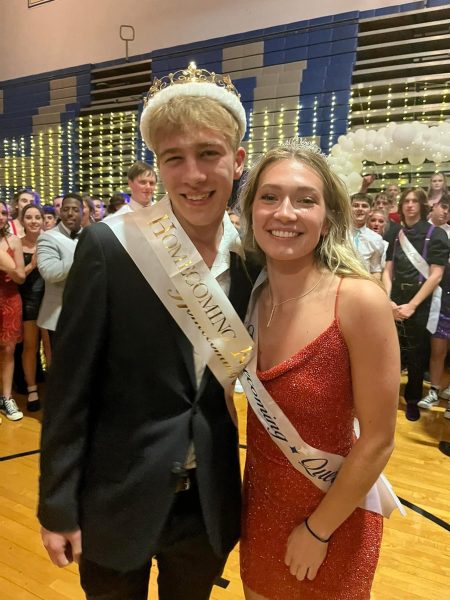 Eli Carr
I am on the wrestling team. I also am the president of the Senior Class Officers, as well as a member of United Spartans. I was over the moon the instant that I heard Marcus Smith was on the court with me because that means I get to ride in the float with him.
Joey Dolinski
I play football, and I am a part of the track and field team, Project 18, and participate in club activities for my class. I am excited to be on the court, and I am happy for my classmates who made it as well.
Ryan Gilbert
I am involved in Project 18, student council, and also play for the lacrosse team at Hempfield. It is a great honor to think my peers believe I deserve to be on the homecoming court. honor to think my peers believe I deserve to be on the homecoming court.
Nick Miller
I am President of Project 18, Treasurer of the Student Council, Vice President of NEHS, Peer mentor for Wendover Middle School, Peer mediator for the high school, and I am in Mini-Thon. I feel proud that my peers voted for me.
Shawn Murray
I am the president of the student council. I am also a member of GNHS, Caring Hands Club, Project 18, Mini-Thon, United Spartans, peer meditation, and the Wendover Youth Mentor Program. It was an honor to be announced as a nominee for the court and exciting to have some of my best friends on the court as well.
Marcus Smith
I am currently in the process of creating a Christian club called 'Spartans Walking After Truth' and am also a proud member of Project 18. Being nominated for homecoming gave me a warm feeling of appreciation.
Ben Kudrick
I am in the fall play and a member of the band. I'm also in HEP, the Spanish Club, and the Tabletop Games Club. I feel like I now have a standard to uphold being on the court, and I always try to be kind to everybody.