This years Homecoming Queen Court was represented by seven outstanding young women. Handing down the crown was Sydney Hickle who was happily "dethroned" on Friday night.
Hickle, accompanied by her father walked across the 50 yard line ready to crown the 51st Homecoming Queen.
In preparation for their showcase on Friday, the homecoming court constructed biographies to express who they are and how they contribute to Hempfield Area High School. We celebrate each of these individuals and our Queen, Sarah Podkul, who was crowned based on the senior class vote. Congratulations to Podkul and all members of the 2023 court.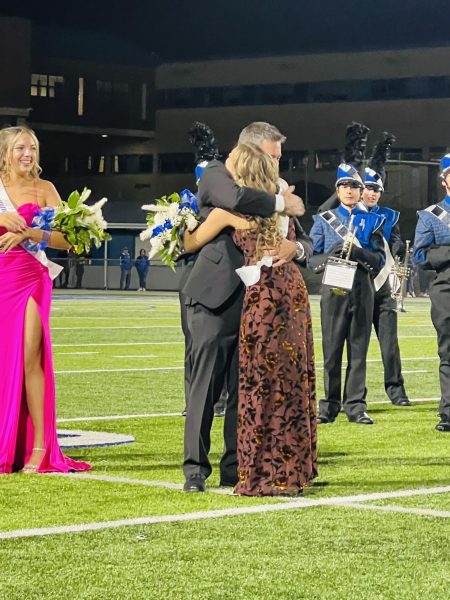 Gianna Demarco
Throughout my years at the high school, I am lucky to say that I am involved in many great extracurriculars. I am a member of National Honors Society, National Science Honor Society, National English Honor Society, United Spartans, and Project 18. I am also a peer mediator, as well as the secretary of student council for the 2023-2024 school year. Outside of school – based clubs and organizations, I am also one of the captains of the cheer team, as I have been cheering for 12 years and am currently a member of both the sideline and competitive teams for Hempfield. Because of cheer, I can proudly say that I am a 3x WPIAL champion, a 2x PIAA champion, and a national champion. I come from a family of four that includes my twin brother Anthony, my mom Dana, and my dad Brad. I am excited to be on the homecoming court for many reasons, but one of them is because I get to share such a wonderful experience with an amazing group of girls who I am lucky to have gone through high school with.
Riley Dunn
I am the youngest in a family of 5. I have an older brother Taylor and an older sister Maddy, who teaches in the district. Along with my mom Jessica and my dad Shawn. I am heavily involved in various clubs and groups around the school. I'm the community liaison for Mini-THON, an active member of United Spartans, a student council grade representative for the past four years, and a youth mentor at Wendover Middle School. In addition to being heavily involved in the school, I prioritize my academics being a member of the National Honors Society, Science National Honors Society, Rho Kappa, and the French Honors society. Outside of school, I spend my time working at MB Prom and volunteering at Westmoreland Hospital. I am extremely honored to be on this year's homecoming court and so grateful to stand alongside these amazing girls! I am beyond excited to be part of a tradition that has been around for decades, and this is an event that will make my senior year unforgettable!
Olivia Eisaman
Throughout my four years at the high school, I got the opportunity to be involved in some incredible organizations including, the National English Honor Society, United Spartans, Caring Hands Club, and Mini-Thon. I have also played tennis for the past nine years of my life. I have played for the school for all four years of my high school career, starting varsity for the past three. I am also a returning team captain to the most amazing group of girls. I am honored to be representing my class and school while being alongside six other incredible girls and creating more memories of my senior year.
Peyton Heisler
I am in a family of four. I have a brother, Brock, in 10th grade, and my parents are Jackie and Chad. A fun fact about me is that I have an albino guinea pig named Tazz! My family is very involved with athletics, but I mainly spend my time playing softball. I am on the high school softball team, and last year, we were WPIAL champions and state runner ups. I also play travel ball for Team Pennsylvania and will be playing softball in college at the University of Pennsylvania! Within the school, I am an officer of Mini-Thon (Event Planner), United Spartans (Social Media Manager), and Rho Kappa (Treasurer). I am a two year member in NHS, SNHS, and NEHS, and a four year member of our schools Student Council. I have always been one to have big aspirations, so thank you to all of my teachers, coaches, and parents who have given their continuous support and assistance throughout the years! I am excited to be on court because of the opportunity to become part of the legacy I saw in the 50th anniversary parade last year. It was then that I recognized how close knit some parts of our community can be! I'm looking forward to what the rest of the year holds.
Malea Nadeo
I live with my family of four, my older sister Miranda and my parents, Michael and Natalie. I am involved in many activities, acting as the Overall Administrator for Mini-THON, 50th Anniversary Public Relations Director of Project 18, and member of National Honor Society, Science National Honor Society, National Art Honor Society, and United Spartans. I enjoy anchoring on Hempfield's school news, "15601", and writing articles for "The Royal". I take pride in my academics, as I've been in the top 10% of my class for four consecutive years. After I graduate, I hope to go to Penn State for Telecommunications and Media Industries. I am so excited to be on Homecoming Court because it is such a special honor as my contributions to Hempfield are being recognized in the community. I feel so grateful for this opportunity and to stand on court with the most amazing and sweetest group of girls. I can't wait to see what the rest of my senior year brings!
Hannah Uhrinek
My family consists of my parents, Rachael and Gerard Uhrinek, my siblings, Hailey and Aiden, and my dog Blu. While attending Hempfield Area High School, I have been involved in the varsity softball and swim teams, the National Honors Society, and the National Honors Societies in Art, Science, French, and English. In the summer, I work as a lifeguard, swim instructor, and umpire. My plans include attending college and becoming a physical therapist. I am excited to be on homecoming court because I get to be someone who the little kids look up to or dream to be. When I was in elementary school, I remember going to my church and watching the parade saying to myself, "I will never be on the homecoming court!" Little did I know that a few years later, I would be! I'm excited to be on the homecoming court because I can be the example of "anything is possible". I'm equally as excited to be on the court with all these other amazing ladies. Any one of us deserves to be queen!
Sarah Podkul
I am the youngest of three. My two older sisters are Allison and Morgan, and my mom and dad are Mark and Kelly. I am the Vice President of Student Council and the Secretary/Treasurer of United Spartans. I am a proud member of Hempfield's Mini-thon, and I am also in Science National Honors Society, National English Honorary Society, Spanish National Honors Society, and National Honors Society. Additionally, I am on the volleyball, basketball, and softball teams, and I even decided to join the Fall Play this year! I plan to go to college to study Biology in hopes to later become a Physician Assistant, and I'd also like to play basketball. I'm thrilled to be standing next to this beautiful group of girls, and I am so excited for the rest of the school year!