As a student at Hempfield Area High School, Lauren Keller was not the loudest voice in the room. Although popular and very well-liked, she was not one to draw attention to herself. Despite performing in a number of musicals and fall play productions, Lauren was best known for being a good student and a good person – in other words, she was like so many other students here at Hempfield. Flash forward six years, Lauren, a graduate of Point Park University, found herself behind a camera filming a short film that would bring her awards and the attention that she never sought out in high school. 
When Lauren was in high school, she participated in a plethora of musicals like Les Miserables, Mary Poppins, Beauty and the Beast, and Fiddler on the Roof. In her senior year, she participated in the fall play production of Our Town, along with one-act plays. Her high school experiences led her to study Cinematography at Point Park University, and for her senior year thesis, she was instructed to create a twelve-minute film. "I actually wrote the script my sophomore year. It was only a three-page script, and I saw a BuzzFeed video about serial killers' last meals. I thought it was very interesting so I thought I would try to make a script based on that. From there I decided to make that my thesis film" Keller says.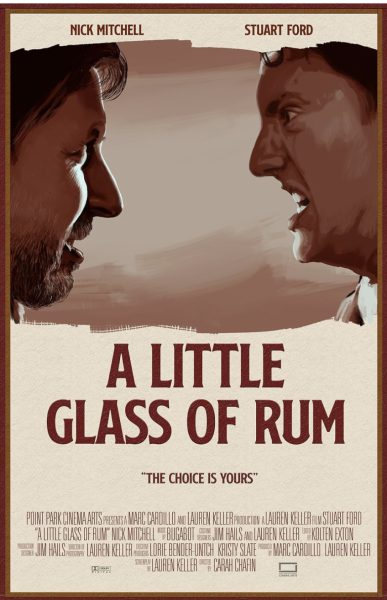 Lauren Keller's short film, "A Little Glass of Rum", is only 20 minutes long, but it has over 50 awards for a plethora of different things. Keller takes inspiration from her favorite classics, Halloween, The Thing, and The Shining. Lauren talks about one of her favorites, The Shining, a 1980 horror film produced and directed by Stanley Kubrick – "The Shining actually is what got me into filmmaking. I felt so uncomfortable watching that and I wanted to be able to create that feeling in others myself." Her most recent film, "A Little Glass of Rum", surrounds the story of a prison guard grieving over the loss of his wife and son, he decides to dine with the killer of his family for his last meal. 
Lauren was quiet at Hempfield, but in the realm of filmmaking, she found her voice. Her journey reminds students that this success often emerges from unassuming parts of life. As we watch her success unfold,  we are reminded that sometimes, the quietest people have the loudest stories to tell – even award-winning ones.