"Bridget Guy was born to fly." She was a state champion track and field athlete at Hempfield Area High School all while excelling in the classroom at the highest level. She then went on to compete at the Division 1 level and is now a hopeful future 2024 olympic pole vaulter. Below details the interview with an amazing Hempfield alumni who is accomplishing great things in the real world.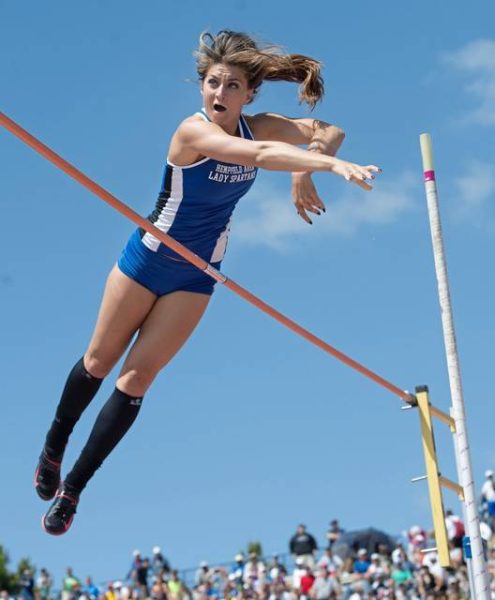 Looking back to the beginning, Guy reflected on her time as a Spartan when she said,  "My time at Hempfield was a period of growth for me. For most of it, I was learning who I was and who I wanted to become. One thing that stands out to me as I reflect back is how big a role my coaches and teachers played in my development as a student and athlete. It makes a big difference to have that kind of support as you're growing up and maturing into a young adult. All of my coaches and several of my teachers still keep in touch and continue to follow my athletic career. I cherish that because it speaks to the quality of people at Hempfield".
She further emphasized, "These are teachers and coaches who aren't afraid to have tough conversations, to push you to see your potential, to provide guidance when you need it, and also to celebrate when you succeed even well past your time in high school." Even in high school, Guy was an athlete who depended on teachers and coaches to guide her to succeed.
After high school, Guy went to the University of Virginia in Charlottesville to and study French Language and Literature with a minor in entrepreneurship. Then Bridget completed a masters program with a focus in administration. She is a student and athlete, who has performed way above expectations both in the classroom and on the track.
Because of the hard work and the amount of support she receives, Bridget has been able to excel to tremendous success. Today she is training full-time as an elite pole vaulter under Virginia Tech's pole vault coach Bob Phillips. She is entering her 4th season with him. She says she competed in "my first world championships this past summer and am just now returning to training".
Guy is preparing for the Pan American Games this November and following the games will continue to focus on making necessary technical changes in the vault. Improving technique, speed, strength, and mental toughness will all play a huge rule in her future successes. "My eyes are set on making the 2024 Indoor World Championship team and the 2024 Olympic Games" she says.
The achievement is no small feat, but with her tenacious personality, Guy is a powerful force who can certainly soar for greatness.