It's September, which means Friday nights under the stadium lights are in full swing, but that also means Hempfield Area's very own marching band is prepping, dancing, and playing for the community! 
First year band director Patrick Kealey has some goals of his own in mind not only for this season but for the years to come. For the 2023-2024 marching season, they are showcasing the theme Earth, Wind, and Fire. It's September which makes this field show a lot more special as they showcase the famous song "September" during their performance.
"I wanted to find something that was filled with joy and that would make people happy," Kealey says. Looking into the future of the band, one of his long term goals is to be able to attend the Macy's Thanksgiving Day Parade. It isn't something that will happen overnight, but he says, "We have to work hard on that every single year, holding ourselves to high standards to be able to reach that achievement".  
The Festival 
This month the band hosted its annual festival. It included marching bands from both Greensburg Salem and New Kensington, which was smaller than usual but was no problem for the band or Mr. Kealey. The three groups put on a show just as amazing as ever, and they were able to add some new pieces as well. This new opportunity allowed for the band members to get to know peers from other districts. The new connections they made is "what makes band so special". 
At the end of the night, Hempfield, Greensburg, and New Kensington played two new pieces together as one. They were also able to play two songs with the band members from the class of 2028. At the start of the festival, the eighth grade band members ran out onto the unfamiliar field with their instruments and joined their section being paired with the band's current members. They had prepared for this moment in their respective middle schools but were only able to put it all together with the high school marching band members hours in advance.  
Eighth grader James Harvey from Wendover Middle Schools says, "It was scary at first, but after we rehearsed for the first time, I started to enjoy being with the marching band. After I got to play with the band, it influenced me to get better and join the marching band when I get to 9th grade". 
Another Wendover eighth grader, Kendell Dillon, said, "At first, I was contemplating my decision, but then, I went to the practice before the festival, and I felt as if I was in the right place". The band extending a warm welcome provides the eighth graders the opportunity to see what the band is like and what exciting things are in store.
This was the 53rd annual band festival held at Hempfield Area High School, and it was a great one.
Describing his Students
"Hardworking, determined, and passionate" are some words that Kealey would use to describe his students. This stands very true as they devote themselves to a multitude of after school practices, parades, games, and festivals while also selling the best subs. Sub sale is one day a month where the band members and volunteers arrive at the school between 2-3 in the morning and spend hours making the famous Hempfield Area Band Subs!
More important than making delicious sandwiches, the band works hard to sound their best. On Friday, September 22, they performed a new stands tune, "Get Him Back" by Olivia Rodrigo. Kealey spent countless hours rearranging it and listening to the recording. Kealey emphasizes on how important it is to practice hard and show their potential.
"All of those details, playing notes the right way or marching in time, doing certain dance moves, all of that contributes to that overall game day experience  of bringing people together and having school spirit and pride".
— Mr. Kealey
Members of the band who are section leaders also dedicate themselves to everything band, acting as mentors for their sections. Drumline Captain and snare section leader Callie Brooks says, "Not only are you responsible for learning your music and for your instrument, [while] still being able to do all of your homework, you also have to help others learn their music and fix their instruments. It's definitely not an easy job, but I wouldn't trade it for anything because I really enjoy the position". Being a section leader comes with a lot of responsibility, but the people who take this position are ready to take on this challenge.
Brooks also gave more insight on what it means to be a section leader, "You have to be very patient; that's the main thing, especially if you have a rowdy section. You have to be able to talk and voice your opinions confidently while equally being able to listen intently". 
The D-D-D- Drummmmline
As halftime comes to a close, and the crowd gets ready to get back up on their feet, Hempfield's drumline begins to make their way over, seemingly being one of many exciting points of the night! Before the night begins, they get their adrenaline pumping and the morale up by listening to music and having a member of the group give a speech. 
The tight-knit group enjoys being together and doing what they love, playing their music. "The student section really enjoys when we come over and play so that definitely helps [to keep us motivated]. While the applause and cheering is nice, we all just enjoy being there, making music, and dancing," Brooks reveals. She also describes her time being in drumline as "fun, hilarious, rowdy, but intense at times". 
When they play, she wants people to enjoy themselves and hopes the audience is entertained with what they put out there. All the positive support from their peers as well as the community seems to make it all worth it for the 24 members.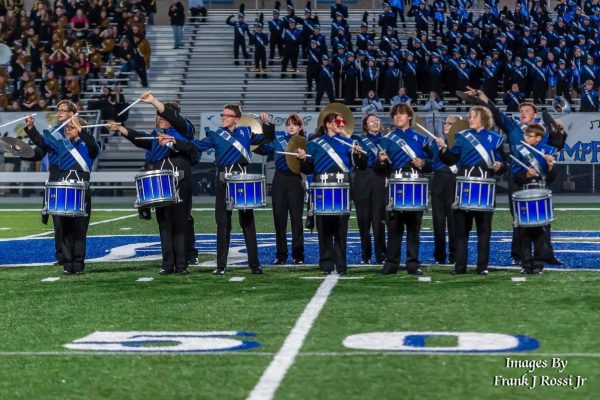 A Community
Community is very important to the band. One thing that has brought the team, cheerleaders, and band together is the playing of the Alma Mater, which was revealed to be Coach Keefer's idea. Kealey says, "He has been phenomenal in thinking about what it means to have a football game on a Friday night".  
As they bring the three groups together, they also bring together the community of Hempfield. Kealey says, "I want people to feel good; it seems simple, but there is so much effort and preparation that goes into being able to play something really well". 
When you ask a band member what it means to be in a marching band, you will get slightly different answers, but one thing that remains consistent is that it is a safe community where everyone feels included and welcomed. Flute and piccolo section leader Mckenzie Dillon says, "It's a sense of belonging with a family that's not blood. It cultivates creativity, encourages friendships, teaches passion, good habits, and social skills. It's an immense support system. The band is always there to support, motivate, and care for you". They offer a safe space for all of the kids to learn hard work, discipline, performance ability through what they do as a marching band.
 "It's not any ordinary club; we have a job to do. We have a job to make people happy and to entertain. They are really good at that job, but my job is to hold them accountable and help us achieve those goals as a group," Kealey adds.
Next time you see the band, you'll know that what is put out was created with preparation, determination, and passion.