In the heart of our courtyard, students and staff watched as the apple tree started leaning due to the abundance of fruit that grew from the tree. Pastry Arts and Foods and Nutrition teacher, Mrs. Sharon Thompson, took it upon herself to turn these apples into a delicious cake that was shared by the staff.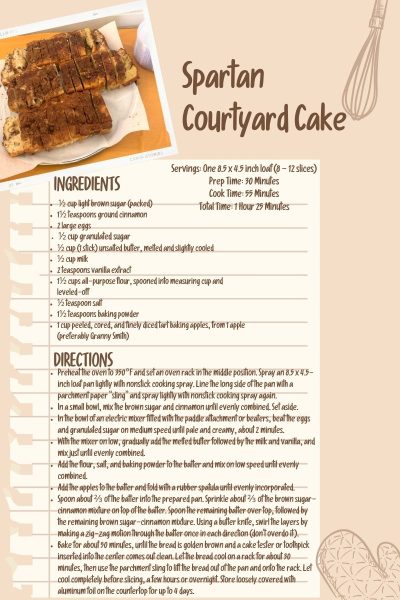 Mrs. Murray and her enthusiastic students, Wes Chapman and Jack Wonderling, plucked each apple off the tree filling laundry baskets to give to Mrs. Thompson. Laughter filled the courtyard, and the students and Mrs. Murray found joy in working together to gather ingredients to make the cake. 
Wes and Jack gave the apples to Mrs. Thompson, and her Pastry Arts class embarked on their culinary adventure to create this delectable treat. "I had students peel the apples, and then we all chipped in together and made the bread. Mrs. Murray organized it, and our students in the Foods and Nutrition room baked it," Thompson stated. 
This cake is an apple bread with a cinnamon swirl and crisp sugared top, made in unity by students and staff. This cake reveals what it's like to be a part of the Hempfield Area High School community. It often takes many hands to bring about a delectable final product. If we all work together, we can all eat cake. 
 Staff was able to try the tasty treat, and this started a new tradition at Hempfield – the "Spartan Courtyard Cake".