One of the great stressors of our senior year is getting into a college and paying for it. Certainly one way to accomplish that is to write a good college essay, and more importantly, to submit scholarship essays to have a chance to receive aid to offset college costs.
This year, Alpha Omega, Hempfield Area's National English Honor Society hosted their third ever and first for this year, Senior Scholarship Studio! The event took place on October 19, 2023 in the high school library. The senior scholarship studio allows seniors to write, edit, and revise essays and gives them opportunities to apply for acceptance and scholarships throughout the day.  Seniors could attend during activity periods, lunches, study halls, and English classes. Mrs. Testa, Alpha Omega Sponsor, was there throughout the day to help revise pieces and educate students about the process. School Counselor, Mr. Thompson, was also present. He said his goal was to  "help and support the senior students with their admission essays."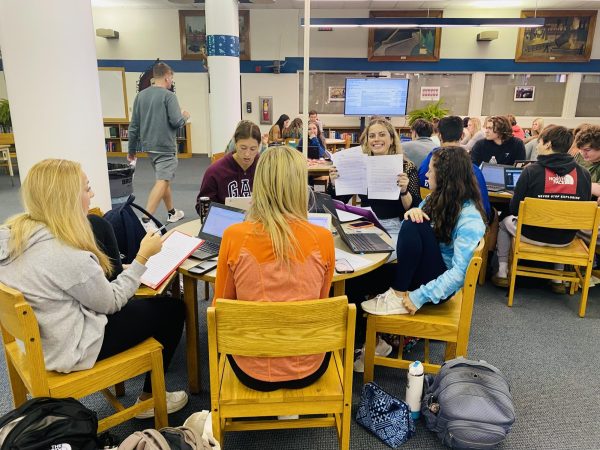 The Studio continues to grow in size each year with 167 seniors attending the event. Nick Miller, vice president of Alpha Omega said "Us seniors got a lot of college admissions complete and finished a lot of good work."
The event went well for all seniors involved. There will be another Senior Scholarship Studio held for students on January 24, 2023. Registration will be sent to seniors when they return from break.  Mrs. Testa says, "We like to designate time for students to focus on real world application of skills and applying for scholarships that will help them in their upcoming futures."
Having a day set aside for students to achieve this goal was certainly needed. Senior Zoey Hopkins states It was a "good opportunity to dedicate time to write essays we would not otherwise get done".